California Happiness
California Happiness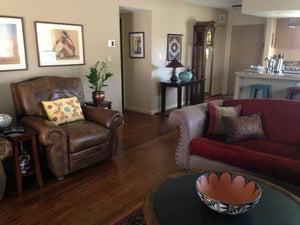 California Happiness : June 2018
Robin--
I was delighted to receive the Two Grey Hills weaving by Seraphina Benally.  The piece is a valued addition to my home:

I want to thank you for including all relevant documentation, and especially for including the issue of Native American Art, as well as a strip of Velcro--now I can return yesterday's purchase to the local hardware store.  Your thoughtfulness is much appreciated. 

This new weaving from Nizhoni Ranch Gallery is one of my most prized pieces of Native American art.  It joins: 
    *  a butterfly basket by Mary Holiday Black
    *  a dough bowl by Santo Domingo potter Pedro Lovato
    *  a 1973 Hopi 'Eagle Dancer' kachina by Alvin James Makya
    *  a marble Rain Spirit-inspired sculpture by Cliff Fragua of Jemez Pueblo
    *  a trio of contemporary mixed-media sculptures/masks by Hopi artist Gregory Lomayesva
I grew up in Tucson and I experienced the late 60's heyday of everything turquoise... among other things.  Native American art and a Southwestern palette have always struck a deep personal note within me.  I guess there
is
some method to my madness.
Nizhoni Ranch Gallery earns my unequivocal 'five star' review.
P. T.