Eye Dazzler
Eye Dazzler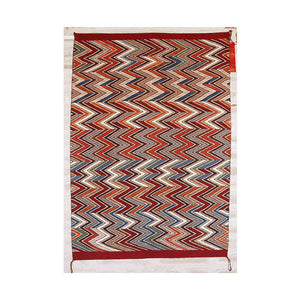 Hi Steve,
I love it.  Had every intention of displaying it on a wall as a drape, then noticed that it coordinated perfectly with the large arts and crafts wool rug in our great room. It looks stunning spread across the back of our brown leather sofa (sofa is free standing in the center of a great room), so that is where it's staying for now.
I enjoyed the "Living with Navajo Weavings" section of your book.I've learned that arts and crafts designs and the geometric Navajo weavings (Red Mesa, Eye Dazzler) have a great affinity for each other.
Thanks so much for all the extras you sent me. It made a very nice package.
Thanks,
Mary, Michigan
Navajo Churro Collection Registry #932
Frances Begay
Eye dazzler Wedge Weave Design
Woven from 100% highly variegated hand dyed churro wool
54″ x 60″
Second Place – Innovative Design
2010 Gallup Inter-Tribal Indian Ceremonial