Navajo Hall Runner to Austrailia
Navajo Hall Runner to Austrailia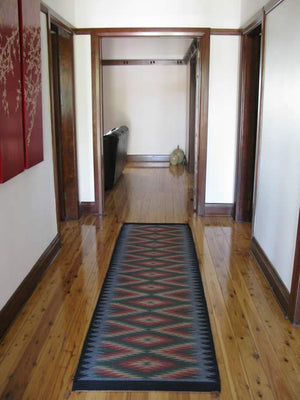 Hi Gail,
Apologies for the delay in getting this to you.
I just wanted to say thank you to yourself and Steve for all your assistance with helping us to find, afford and transport our beautiful hall runner.
When my wife and I were in the US in 2008 we fell in love with Navajo weavings. Since then we have found that here in Sydney, Australia Navajo rugs are almost impossible to find. We looked everywhere locally and could not find an importer anywhere. We were just about to give up when we came across your site.
Thank you for patiently sending us photos of the various weavings you had available. Thank you for doing a great deal for us on the one we loved most. Thank you for staying in touch and keeping an eye on things as the weaving was being delivered to make sure we received it. Thank you for your professional and courteous service. And most of all thank you for helping us find the perfect hall runner for our home.
Best regards,
Doug S.  –  Australia