Two Grey Hill finds home in Massachusetts
Two Grey Hill finds home in Massachusetts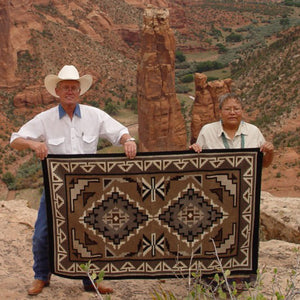 Hi Gail/Steve,
I/we are just floored by the extraordinary beauty AND remarkable quality of this Cara Gorman weaving. It's truly a complete marvel. Thank you SO much for holding it for us!
I could buy a weaving a day and not be satisfied. they are really amazing, when they are amazing, and THIS WEAVING IS amazing!
Thank you for the valuation. that REALLY helps me and was very gracious of you!!
Thank you for the beautifully written provenance paperwork, which my insurance company will be VERY happy to see.
Honestly, ot own this feels like owning a piece of the Dine spirit,. I've never felt about a weaving as I do about this one, even though we are lucky to have purchased some really remarkable and special weavings, but there is a spirituality to this weaving that strongly emanates from it. Is that what "Two Grey Hills" are about, or is it just a name for a location?
thank you, thank you, and thank you!!
Naturally, we look forward to doing much more business with you.
best wishes always,
F & J – Massachusetts