NAVAJO SANDPAINTING WEAVING FINDS A NEW HOME
NAVAJO SANDPAINTING WEAVING FINDS A NEW HOME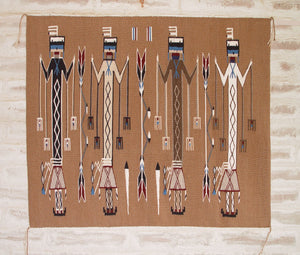 Hi to Steve, Gail and Robin,
My rug just came and I love it.  I can't wait until my husband comes home and we hang it on the wall.
I hope to do business with you guys again in the future.  Next year will be our 40th wedding anniversary and a great time to buy a rug for the floor.
It Looks Great!!  The rug just looks wonderful -much better in person.
Even this picture I sent doesn't do it justice.
Thanks so much, C.O – Kentucky