The beautiful Navajo Child's Blanket
The beautiful Navajo Child's Blanket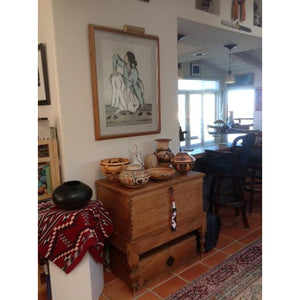 Steve,
The beautiful Navajo Child's Blanket with the spider hole we acquired from you is carefully being watched over by Spider Woman.
 Churro 1308 by Kathy Marianito
We thoroughly enjoyed our visit to your ranch home and gallery. We are happily enjoying all your rugs and will email you pictures of them, as well as some other pieces we have collected over the years.
Thank you again for your graciousness and for letting us take so much of your Saturday morning that day.
Best wishes
T and L