Navajo Rugs Migrate to Maine
Navajo Rugs Migrate to Maine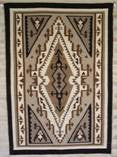 Gail and Steve,   They arrived!
Thoughtfully and carefully folded and packed… thank you. And they are absolutely beautiful… and I love the smell and the texture of the yarn… a veritable feast of loveliness!
Each has a unique look/feel befitting the choices and talents of the artists – love them all.
Thank you for including the Velcro, the thoughtful binder with each weaving's provenance, and the book signed by you and Steve (which I will enjoy reading by the fire this evening).
We feel fortunate to be able to have such beautiful works in our home where they will be displayed in a place of honor and truly admired and appreciated.
In a disposable, plastic world of Walmarts and Made-in-China this is a reminder of the beauty that can be created by such talented (native) American artists.
We would appreciate your sharing our "heartfelt thanks" and appreciation with the artists themselves – we are honored to be the caretakers of their wonderful work.
Hope to see you this winter – will be sure to call ahead.
Regards,  Dave Z.- Maine