3rd Phase Chief Blanket Bedspread ARCHITECTURAL DIGEST CELEBRITY STYLE
3rd Phase Chief Blanket Bedspread ARCHITECTURAL DIGEST CELEBRITY STYLE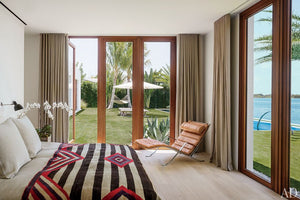 Looking through our blog archives, I found this old post that had lost it's image (very frustrating). I did some research and found the missing photo. So here it is again. We think this is a great idea for a bed spread!!!
Working with David Piscuskas of 1100 Architect, author and photographer Kelly Klein uses an historic Navajo 3rd Phase Chief's Blanket in her bedroom as a Bed Spread. Now this gives this bedroom some history and connection to the earth, with the ocean view just outside the window.
"I've become more of a minimalist, and I've learned that from Calvin," Kelly says, referring to her marriage to fashion icon Calvin Klein as well as her years working in his design studio." AD Click the photo above for more photos of Kelly Klein's getaway.