shows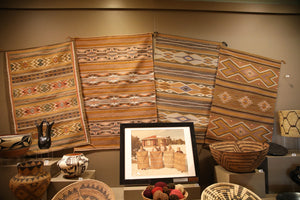 Booth Western Art Museum - Native Hands Exhibit!
The Booth Western Art Museum
in Catersville Georgia has a semi-permanent exhibit named "Native Hands".  Over the years generous collectors have either loaned or gifted the Museum items from their personal collections to share with the public. 
The exhibit opened in 2009 and has since been updated 4 times.  While planning the 4th re-design, Lisa Wheeler, Director of Curatorial Services approached Gail and Steve in hopes they would consider lending pieces from their personal collection.  Gail and Steve happily agreed and now 47 items from their personal collection are on display.  


Below are photos of the Native Hands Exhibit along with a video.  The Booth Western Museum a must see if you are in the Atlanta area.  Items from the Getzwiller Collection will be on display until 2023.
OPEN HOUSE FOR Timeless Treasures of Two Grey Hills Show Sunday March 11

Steve Getzwiller with Master Navajo Weaver Grace Nez and her extraordinary Two Grey Hills masterpiece.
OPEN HOUSE : SUNDAY MARCH 11, 2011
Featuring Master Weaver Elsie Bia and her grandchildren Natalie and Dylan demonstrating on their looms.  Natalie and Dylan are working on their first Navajo Rugs and we will be auctioning them off, as a way of encouraging them to continue to learn to weave.  If you can't make the opening and want to bid on their rugs just email us and we will put you down on the list. 
If you are considering purchasing one of our Two Grey Hills from the Show Catalog click here.
 We are so pleased with the response to our Timeless Treasures of Two Grey Hills Show.  All are invited to visit our gallery to experience this wonderful and rare exhibit along with our vast collection of Navajo Textiles, Native American Baskets, Pottery, and North American Indian hand-made treasures. 
Questions? call 520-455-5020 or email info@navajorug.com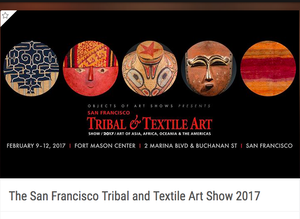 San Francisco here we come!
The annual San Francisco Tribal & Textile Art show is the leading Tribal art fair showcasing the arts of tribal cultures and indigenous peoples of the Americas, Asia, Oceania, Polynesia, the Middle East and Africa. 

The show presents over 80 national and international galleries, displaying museum-quality objects and artifacts in visually striking settings perfect for browsing by tribal art collectors, first-time guests and enthusiasts. This show presents the rare opportunity to find that unique object that you can bring home and enjoy.
Nizhoni Ranch Gallery is pleased to be one of the only galleries to represent weavings by the gifted Navajo loom artists.  If you're in the SF area, please be sure to stop by our exhibit and say Hi!  We will have some exceptional weavings for you, like this amazing 3rd Phase Chief Blanket done in a Teec Nos Pos/ Red Mesa style.  
You can purchase tickets for the event by clicking here.  The show will run Feb 10-12: Friday - Sunday 11am - 7pm (5pm on Sun)
Fort Mason Center
Festival Pavilion 
2 Marina Blvd 
San Francisco