Dearsouvenir Magazine Feature
Dearsouvenir Magazine Feature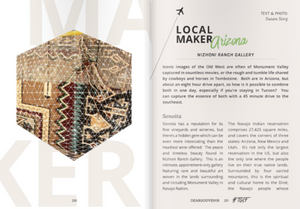 For ease of reading online……
A TIMELESS VISIT TO NIZHONI RANCH GALLERY
Iconic images of the Old West are often of Monument Valley captured in countless
movies, or the rough and tumble life shared by cowboys and horses in Tombstone. Both are in
Arizona, but about an eight hour drive apart, so how is possible to combine both in one day,
especially if you're staying in Tucson? You can capture the essence of both with a 45 minute
drive to the southeast.
Head for the rolling grasslands of Sonoita, Arizona, a small ranching community and
pure cowboy country. Sonoita has a reputation for its fine vineyards and wineries, but there's a
hidden gem which can be even more intoxicating than the headiest wine offered: The peace and
timeless beauty found in Nizhoni Ranch Gallery. This is an intimate, appointment-only gallery
featuring rare and beautiful art woven in the lands surrounding and including Monument
Valley…in Navajo Nation.
The Navajo Indian reservation comprises 27,425 square miles, and covers the corners of
three states: Arizona, New Mexico and Utah. It's not only the largest reservation in the US, but
also the only one where the people live on their true native lands. Surrounded by four sacred
mountains, this is the spiritual and cultural home to the Diné, the Navajo people whose
beginnings are told through legends. Living in harmony with the land and nature, life here
follows traditions…like that of a grandmother teaching her granddaughter to weave sheep's wool
and following designs more than a hundred years old.
Now enter the cowboy, Steve Getzwiller, owner of Nizhoni Ranch Gallery. He's the real
deal, with his cowboy heritage stretching back generations to the territorial days of Arizona and
New Mexico and the early days of Texas. He's the son of a champion team roper, and even did
some rodeo roping of his own. But when he was 19 this lanky, soft-spoken cowboy traded his
collection of .22 rifles for some Navajo weavings…and never looked back. More than 45 years
later, Getzwiller is considered a premier expert in Navajo weavings, working with about 40
weavers creating one-of- a-kind textiles.
Nizhoni, which means "beautiful" in the Navajo language, is the perfect name for this
hilltop gallery which is also home for Steve and his wife Gail. Walk across the tile patio and
through the heavy oak door, and you're stepping into another world, one filled with beauty and
tranquility.
"They're blown away," says Steve Getzwiller, when asked what his clients sense during
their appointment-only visit. "It far exceeds their expectations, invariably. They see the material
online, but once they get here and see it in person, it's a whole other thing. The setting is not like
anything they've been exposed to before."
Stepping into the gallery itself, with its magnificent mesquite wood floor, this 20-by- 40-
foot room is filled with Arts and Crafts-era furnishings which complement the dozens and
dozens of spectacular Navajo weavings on the walls, draped across furniture or stored in glass-
front cases. Historic Native American basketry is also prominently displayed, along with
paintings by southwestern artists and classic Edward S. Curtis orotones.
"There are some people who are hesitant about coming out by appointment, because they
feel like it's a commitment, but I don't put anybody under any pressure," says Getzwiller.
Still…be prepared to learn…and to be dazzled as he casually unfurls a Navajo blanket or
rug with an incredibly complex design. He'll share with you some of the intricacies of how
weavers work for months or sometimes even years to complete one piece. You'll not only learn
the story behind the work, but what to look for when you start looking on your own.
Some of the weavers Getzwiller works with he has known for most of their lives.
Because he also often worked with their mothers and grandmothers, he chuckles and says some
he worked with before they were born. His goal had always been to raise Navajo weaving "to
the next level" as he calls it, by guiding some back to truly traditional designs, some with more
open space and yet others very complicated. He also was instrumental in bringing back the
Churro sheep, a particular species which has low lanolin content and was nearly wiped out by
federal government range management decades ago.
"There's no shortcutting the process," he says as he describes how it's all done by hand.
"The dyes in my Churro collection come from Switzerland, and they're the best
available. We have a palette that on one else has in the weaving business."
He'll explain what different patterns and symbols mean, and why the weaver chose to
incorporate that. You'll learn how one weaver spent more than two years on an extremely
complex piece based on a ceremonial sandpainting, and how, as a mathematician she planned it
out first on graph paper. Another master weaver gets her inspiration from abstract paintings by a
contemporary American artist.
It's as if time stops during your visit to Nizhoni. The peaceful quiet may be punctuated
by the rapid chirps of a cactus wren, or the sigh of the wind through nearby cedars. Whether you
leave with a weaving, a piece of jewelry or other Native American art, you still leave this place
changed, with a new appreciation for what time, patience and skill can create.
"Visitors take with them an experience they truly enjoyed," says Getzwiller. And what
better way to spend some time than in this timeless corner of the Southwest?