In Transition - American Indian Transitional Rug Gallery Show
In Transition - American Indian Transitional Rug Gallery Show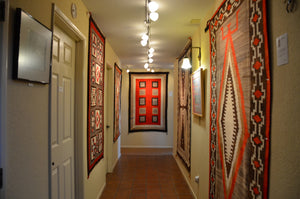 September 2019 to TBD...
Time changes life for everyone, and that's especially true for the Navajo. During the last part of 19th century, trading posts opened up and traditional life for the Navajo began to evolve rapidly; especially when it came to Navajo weavers. It was with the changes to wool, newly available dyes, and the transition from wearing blankets to floor rugs; that gave way to this "transitional" period and thus, Transitional Rugs were born. 
History of Transitional Rugs and Blankets
It began in the late 1870s that "transitional" blankets began to overtake the "late classic"  blanket. And within a few decades, the Transitional Rug began to copy those elements and share in their colors and designs. Larger and heavier than their counterparts, bordered Transitional Rug weavings began to evolve and the old classic banded-style of wearing blankets were nearly phased out altogether by the early 1900s.
Currently at the Gallery
We have filled the walls with some of our favorite Native American Transitional rugs and blankets.  The variety of styles, size and colors make Transitionals really interesting.  Click here to view the weavings available from this show.