Navajo Rug Show & Sale Preparations
Navajo Rug Show & Sale Preparations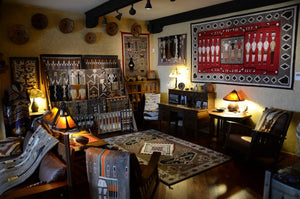 Navajo Rug Show & Sale Preparations - The walls are dancing!! Show extended by Popular Demand!! Don't miss it! Here is a sneak preview of a small portion of the Nizhoni Ranch House Gallery! The Holy People are dancing around the gallery!!
Spirits abound!!!
"Woven Holy People" February 28 – May 28, 2016 Now over 60 weavings that will date from the 1900's to the present. Yei, Yei Be Chei and Sandpainting textiles. Our first in Gallery Show!!!
During the Opening February 28th, Master Navajo Weaver Elsie Bia will be demonstrating her weaving expertise. She has a Yei weaving on the loom! Elsie Bia click here to see her weavings. A Catalog of the weavings will be available at the show!
May be the biggest Navajo Weaving Show of the Year with many rare and extremely fine examples on display!! Sales have already started - some good friends will be finding new homes. We love this collection and are excited to share it with you!
Steve and Gail Getzwiller