NAVAJO YEI WEAVINGS CREATE A STIR
NAVAJO YEI WEAVINGS CREATE A STIR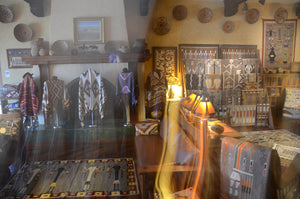 The news is spreading about the show. The Navajo Yeis and Yei Be Cheis are dancing in the Gallery.
Southeastern Arizona gallery announces major show
It's one of America's oldest art forms, and now one special facet is being honored with its own show. Admirers of the textile art created by Navajo weavers marvel at the complexity and sheer beauty of these pieces, which take months, sometimes even years to painstakingly create by hand.
It takes the best of the best of these artisans to weave their spirituality into a rug or blanket. This is what the show, "Whoven Holy People" is all about.
From Feb. 28 to May 28, the Nizhoni Ranch Gallery in Sonoita is presenting more than 60 woven pieces with yeis, yei be cheis and sandpainting designs. Gallery owner and widely recognized Navajo weaving expert Steve Getzwiller considers this one of the most important single-subject showings in his 40-plus year career.
"These are from my own personal collection," he said. "There are several examples that we have that were clearly woven by the same weaver, which is pretty unique."
Sandpaintings are considered an integral part of blessing or healing ceremonies to cure a person's physical or spiritual ills.
While sandpaintings themselves are temporary, a weaving like this is permanent, which is why sandpainting rugs or blankets can be controversial as it depicts certain features considered so revered by the Dine, the Navajos.
The yeis and yei be cheis are isolated elements of the ceremonies themselves, but are still considered holy people by the Navajos. It's a subject Getzwiller says less than 1 percent of weavers have the talent and knowledge to tackle.
"That's because it is sensitive and sacred imagery," said Getzwiller. "A weaver has to have gone through the ceremonies and received clearance so to speak from the medicine man and the spirits of the Dine. The design will then flow through them to the loom."
The show is kicking off a day early, Feb. 27, with a private showing for invited guests. On that day, as well as Sunday, Feb. 28, when the exhibit officially opens, Master Weaver Elsie Bia will be demonstrating her craft. This award-winning artist from Chinle, who learned her art from her grandmother, is the last in her family to weave these truly incredible pieces.
As this is a small gallery, its recommended attendees call ahead, to 455-5020 to reserve a time.
Nizhoni Ranch Gallery is located less than an hour southeast of Tucson. More information can be found on the gallery's website, www.navajorug.com.
© 2016 Tucson Local Media. All rights reserved. This material may not be published, broadcast, rewritten or redistributed.