No More Wall Space? No Problem!
No More Wall Space? No Problem!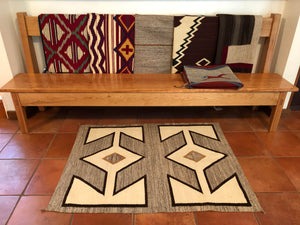 Our wonderful clients from San Antonio sent this to us:
"Finding the right place for our collection of Navajo rugs, blankets and serapes that we have purchased from your gallery over the years is not easy. I made this bench seat of cherry wood that finally works. It is 7' wide and 30" high. I thought you would enjoy seeing how great it works as well. Do you recognize them? Many years of enjoyment".
Yes, we recognize ALL of them. What a wonderful way to display.  We will mention to collectors who complain they have run out of wall space - that they might need a bench!