Nothing Short of Amazing!!!!
Nothing Short of Amazing!!!!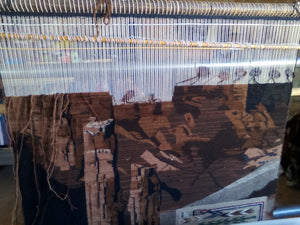 This Sandpainting has an image of Canyon de Chelly with Spider Rock in the forefront.  Spider Rock is home of Spider Woman who taught the Navajo how to weave.  We have NEVER seen a weaving like this...
Master weaver Helene Nez has created some of the very best Sand Paintings, Yeis and Pictorials we have ever seen.  Helene started this weaving, but because she recently returned to the work force she had to put it on hold.  Luckily the Nez family has many fine weavers. Older sister Marion Nez has stepped up to the plate and has taken over one of the most difficult designs we have seen.
Here is it's progress.
This weaving is currently under "Looming Attractions". When it hits the gallery and available for purchase you will find it under "New Additions".  We can't wait to see it!  Go Marion!  

Spider Rock, Canyon de Chelly, Home of Spider Woman