Rebelle Rally 2017, Hoehn Adventures & Nizhoni Ranch Gallery Team Up
Rebelle Rally 2017, Hoehn Adventures & Nizhoni Ranch Gallery Team Up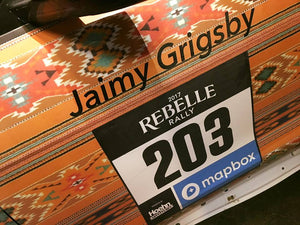 The Rebelle Rally is the first women's off-road navigation rally raid in the United States. Blending the love of driving with the ultimate challenge of precise navigation, the Rebelle competition is a 7 day race for speed, but a unique and demanding event based on the elements of headings, hidden checkpoints, time, and distance using maps, compass, and roadbook.
This year, Hoehn Adventures chose 4 vehicles to be wrapped in Navajo Rug designs from our collection to connect with the Native American designs of the Navajo. The vehicle wraps compliment the beautiful landscape of the desert and terrain from Tahoe to San Diego.
Hoehn writes, "We are so honored and proud to be part of the 2017 Rebelle Rally. The Hoehn fleet of cars featured are more than just standard utility vehicles. This year they'll also have a strong artistic component during the Rally. Each car will be wrapped in a design inspired by female master rug weavers from the Navajo tribe. (pictured above Jo Hannah Hoehn and Gail Getzwiller)

Working closely with the Nizhoni Ranch Gallery in Arizona, which represents the women artisans, the Hoehns were able to create custom wraps replicating the rugs. "We tried to connect the wrap to where the event is taking place which is the American West," said Hoehn Motors. "I think it's a really great way to tie in the landscape where we are competing."

All eight participants competing under the Hoehn umbrella are from Southern California. Five work for the Hoehn dealerships which Jo Hannah says, "has been a really great way for them to engage with the product and the company."  The other three competitors are actress/musician Sabrina Howells, restaurateurs Susie and Dana Saxten. 
Hoehn Adventures Race Results:  Congratulations!

4x4 Class
Jo Hannah Hoehn and Susie Saxten in 10th place
Karen Hoehn and Dana Saxten in 22nd place

Crossover Class:
Jaimy Grigsby and Lori Arterburn in 1st place
Meli Barrett and Sabrina Howells in 2nd place

 
We were so honored to attend the Rebelle Rally Gala and showcase the Navajo rugs that were showcased on the car wraps. So many strong and courageous women under one roof, sharing their amazing experiences together. (pictured Jamie Hellems and Gail Getzwiller representing Nizhoni Ranch Gallery.)
Thank you Hoehn Adventures and Rebelle Rally for having us and showcasing our rugs on the vehicles. Congratulations to all the women who participated, the crews and sponsors involved who brought this awesome race to fruition.
Links:
Rebelle Rally  
Hoehn Adventures (More videos and photos!)
Enjoy photos from the great adventure!  Top Photograph: The Hoehn Motors vehicles wrapped and ready to go..