Salt River Canyon
Salt River Canyon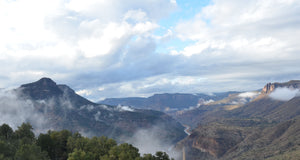 The Salt River Canyon Gail snapped this shot of the Salt River Canyon as she and Steve drove home from the Navajo Nation. An unusual sight, as they have not seen clouds inside the canyon before. The light was changing fast!
A few more snapshots from the Navajo Reservation Trip below. The last trip for 2016! As you can see in the last photo - It was Windy!!
Cecelia Nez posing for a portrait. One of the best living Teec Nos Pos Weavers!! And in general a beautiful person we are privileged to know.
Malinda Nez posing for a portrait. Sheep Herder and Expert Teec Nos Pos Weaver!! We were joking around and snapped this shot of her in front of her loom.
Steve and Kathy Marianito wrestle with a 3rd Phase Chief Blanket, the wind is quite blustery!