Treasure at the End of the Rainbow! 
Treasure at the End of the Rainbow!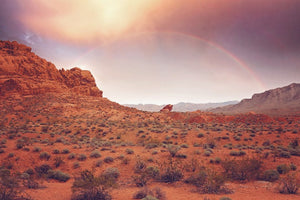 "The end of the rainbow for Navajo rugs"
★★★★★ Reviewed by X-NYr on TripAdvisor.com
We visited Nizhoni today and were overwhelmed by the breadth of the Navajo rug collections, displayed in a fantastic ranch home, gorgeous setting, with fabulous Mission furniture and a knowledgeable and an enthusiastic couple who have amassed this extraordinary array of quality and creativity.
If you are looking for the very best of the best of Navajo weavings, this is the place. It's by appointment only, and it's in Sonoita about an hour south of Tucson. A friend recommended this gallery to us, and we are so delighted that we were able to visit.
The prices are high but commensurate with the quality, value and exceptional designs; both modern rugs and antiques. There were many innovative designs, based on classic patterns, that we have never seen anywhere else, including at the trading posts on the Navajo reservation.
They have many rugs that have won best in show at the Inter-tribal Ceremonial in Gallup. They have many smaller rugs but they seem to specialize in large size rugs.
If you are a serious collector - or want to start at the top - this is The place. The collection tops the Heard Museum and far exceeds what's displayed at the Indian Museum in Washington, DC. Yes, I sound carried away, but this was just the most amazing collection we've ever seen.

Reviews like this make our hearts soar! Thank you!




ps.  We'd love to show you around the gallery.
Call us at 520-455-5020 if you would like to schedule an appointment.
If you've visited our little place in the desert, we'd be honored if you would take a moment to share your experience with others on TripAdvisor.  Just click the TripAdvisor owl to get started.