Steve's Two Grey Hills Navajo Weaving of the Week April 16, 2018
Steve's Two Grey Hills Navajo Weaving of the Week April 16, 2018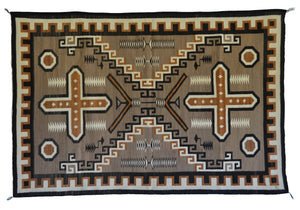 Steve especially appreciates the design elements in this J.B. Moore plate XXX Two Grey Hill.  The hogans (one in each corner).  The Spider Woman's Crosses with stars.  The Hero Twins.  
Circa 1920's
 4' x 6' 

This weaving also graced the cover of Living West!
Call or email us for more info on this fabulous weaving and mention you saw this weaving on our blog.
520-455-5020