Woven Holy People Opening Wows Collectors! Hanging until May 28, 2016
Woven Holy People Opening Wows Collectors! Hanging until May 28, 2016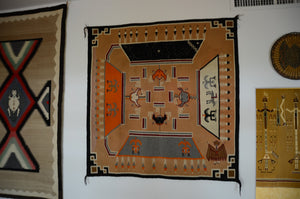 Pictured above are 3 of the more important weavigs in the Show: left is Chei "Grandfather of the gods" circa 1920 extremely rare; center is another rare 1930s Sandpainting weaving Night Skies Sandpainting from the Shooting Way Chant made with Germantown Yarns; and far right is the super fine Arrow People Sandpainting textile by Master Weaver Helene Nez!
THE OPENING OF WOVEN HOLY PEOPLE was a huge success.
Everyone was thrilled with the Exhibition as well as the demonstration by Elsie Bia. A good time was had by all. An unprecedented 10% of the show sold before it opened and within 3 days of opening another 10% has sold. The great response is directly related to the caliber of the weavings in the show some taking over 2 years to weave and others from well over 100 years ago. Many collectors said, "This much sacred imagery in one place at one time can be overwhelming. It does take a while to soak it all in." We welcome your visit - and if not in person, you can see the catalog of the weavings on our website,
just click here - "Woven Holy People" for the link to the catalog.
The Woven Holy People Exhibition & Sale will be hanging through May 28th, 2016. For more information or make an appointment call 520-455-5020 or steve@navajorug.com
Elsie Bia weaving at "Woven Holy People" Opening Reception !