Thrilling Visit to the Navajo Nation
Thrilling Visit to the Navajo Nation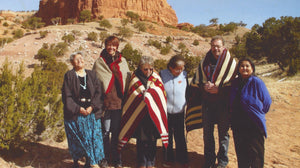 Our German friends were offered a rare opportunity to visit the Navajo Nation where they met Master Navajo Weaver Julia Upshaw,  Master Navajo Weaver Kathy Marianito  and Master Navajo Weaver Jalucie Marianito.

The Marianito Family is known best for their Chief Blankets.  To see more of their incredible weavings click here...
Our friends made it just in time to wear these chief blankets before they left the Navajo Nation for the Nizhoni Ranch Gallery.  This photo was taken in Buffalo Springs New Mexico.
Still Available!  Churro Chief Blanket # 1389, Lucie Marianito
 Questions?  Please contact us at nizhoniranch@gmail.com or 520-455-5020.