Blast to the Past! Don't Miss This Great Article Published in March 2004!
Blast to the Past! Don't Miss This Great Article Published in March 2004!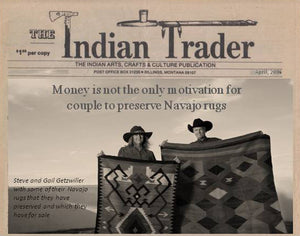 We enjoyed re-reading this article written and published in 2004.  Rarely do things stay the same - we are proud to be an exception!  
Questions? call 520-455-5020 or email info@navajorug.com
Money is not the only motivation for couple to preserve Navajo rugs
     By SHELLA JACOBS
     Arizona Daily Star
     

Tucson, Ariz (AP) - 
     Steve Getzwiller is trying to keep alive what is becoming a rare commodity in the art world: Navajo rugs.


     Getzwiller and his wife, Gail, run
Nizhoni Ranch Gallery
in Sonoita, which displays and sells contemporary rugs and historic weavings.  The Gallery is open by appointment only. 
     Demand for the rugs is climbing at a pace that is outstripping supply because the number of weavers in the Navajo Nation has been declining.
 The Getzwillers are trying to keep the art alive by hiring Navajo women to weave rugs from their home.
     The 45 women who work on the rugs he sells are paid based on the size, the fineness of the weaving, and the complexity of the design.  They receive payments as they weave so they can take on larger projects that sometimes take months to complete.
     The weaving process is laborious and time-intensive and can take a year to make four 4-by-6 foot rugs or just one that measures 9 by 12 feet.
And the sales are good.
     With the weavings becoming more scarce, retailers and collectors say it isn't unusual for rugs that sold for $200 to $300 about 30 to 40 years ago selling for more than $10,000 today.
     The Getzwillers have seen sales rise 10 percent to 15 percent every year since Steve opened the business 30 years ago.
 But he says keeping the culture alive - not the dollar signs - is what keeps him inspired and what has kept his business going.
"My main objective is to maintain the highest quality possible" he said.  "I have no intentions of trying to mass-produce, even if it were possible, and it's not."
     His interest in Indian art and culture is deeply rooted in his life.
 As a boy, his best friend's father was the director of the Amerind Foundation, a museum located about 65 miles east of Tucson.  The director, Charles DiPeso, introduced him to Navajo textiles, basketry and pottery collections.
     Although Getzwiller studied anthropology at the University of Arizona, his exposure to Indian culture as a young boy ultimately inspired him to work with their community.
His relationship with DiPeso enabled him to visit the Navajo Reservation frequently, where he continues to meet and cultivate connections with weavers he can hire.

The "weak link"
     After taking some resource management courses nearly a decade ago, Getzwiller set out to identify what he calls the "weak link" or what he needs to improve to make his business flourish.  That weak link, he said, was the materials used in the weavings.  Improving their quality would lead to finer weavings.

     Instead of trying to boost the quantity of what was becoming an even more valuable collector's item, he set out to reintroduce materials Navajo weavers had rarely worked with since decades ago.  
Getzwiller gave them natural dye and wool from Churro sheep, which are considered rare in the Southwest.

     He also began selling the rugs directly to consumers instead of to galleries and stores.  
That makes it easier to allocate more of his profits to the Navajo weavers, Getzwiller said.  
While Getzwiller didn't disclose specific figures of their paychecks, he encourages the Navajo weavers to pursue their artistic ambitions by generally paying them what they ask for.

     "The problem that we face today is it's a declining art form, less prevalent as a product in terms of quality pieces," Getzwiller said.