Made in Arizona | Desert Caballeros Western Museum
Made in Arizona | Desert Caballeros Western Museum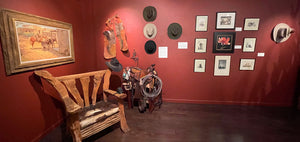 The Desert Caballeros Western Museum is pleased to present, "Made in Arizona", an exhibition with over 100 objects that include paintings, sculpture, quilts, weavings, cowboy boots, saddles and other treasures from the permanent collection and several lenders. Inventions such as the Bola Tie (patented in Wickenburg, AZ) helped the 48th state become a beacon for people seeking to live a lifestyle that's wrapped in the romantic mystique of the American West. The exhibition is funded in part by the Arizona Commission on the Arts, National Endowment for the Arts, and the Town of Wickenburg.
Arizona's Five C's (Copper, Cattle, Cotton, Citrus, and Climate) are well-represented in the Museum's collection, from depictions of storms at the Grand Canyon to cowboys and their gear. As any Arizona 4th grader can tell you, in the early years of the state the five C's served an important role in the economy, with many jobs in agriculture, ranching, and mining.
Just as important today are the Four R's (Retirees, Rodeo, Roping, and Recreation). Once the Dude Ranch Capital of the World, Wickenburg is now known as the Roping Capital. One of the half-scale saddles on display is a Roper's design, built by Carson Thomas on the popular Bowman roper tree for easy on and off during calf roping and steer roping events.
And then there are the Three F's (Families, Farming, and Fleece). Hispanic families settled in the area in the late 1800s and their descendants are still active Wickenburg townspeople today. The blue and orange quilt on display was made by the Quesadas in the 1930s. Families of artists such as the Molnars and the Fellows are nationally-known fine arts ambassadors. Photographers Scott Baxter and Barbar Van Cleve captured the spirit of the Hays and Rigden family of ranchers and artists. The Marianito family's Navajo weavings utilize the wool of the Churro sheep.
State 48 does indeed create!
In the mid-20th century, Western music came to define not only the Southwest, but an entire era in the national imagination.  Artists like Rex Allen, Roy Rogers, and Marty Robbins provided the soundtrack to many Easterners' Arizona vacations. Listen to theses romantic versions of the West as you tour the exhibition with the guidePORT™ audio system.
Special thanks to our many lenders: Scott T. Baxter, Joel Bretan, Dee Bybee, John and Dita Daub, Betsy and Myron Deibel, Steve and Gail Getzwiller, Jimmy "The Hat Man" Harrison, Suzi Killman, Karen Lamontagne, Bruce Meier, George and Marcia Molnar, Optimo Hatworks, Lyn and Arlene Raskin, and Dione Reynolds.