Navajo Rugs Moving Around on the Gallery Walls!
Navajo Rugs Moving Around on the Gallery Walls!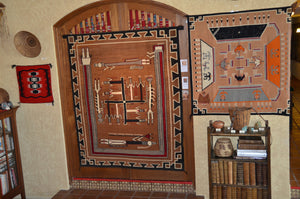 Two very important Sandpainting Weavings in the "Woven Holy People" Show find a new spot in the Gallery. Notice the corner deigns of these two weavings - not a coincidence !
Steve said that after looking at these corners designs and noticing the similarity he did a little digging and found this weaving in our archives of Evelyn Yazzie with one of her rugs. He remembers her telling him that this corner design was passed down to her from her mother and grandmother.

Evelyn Yazzie with her Granddaughter and our son Sean(5yrs. old) 
Evelyn said this is a family design and not shared with other weavers. So it appears that Evelyn is related to the Sandpainting weaver of the weavings above from the 1930s. The attribution of this weaver, from Steve's research, appears to be Altnabah daughter of Migelito (Red Point) a very important Navajo Medicine Man of this time. Migelito was from Evelyn's area of the Navajo Reservation so she must also be a descendant. Many early Sandpainting Weavings were made by relatives to Medicine Men, who would have helped them with the correct way to weave the design and the ceremonial clearance as well.
Steve said, "I have been doing this for so long and seen so many Navajo Rugs, and I have never seen this design anywhere else, kind of narrows it down. Our son in the photo with Evelyn is now 38 so the photo above would have been taken in 1982.
They look so good hanging together! MUCH BETTER!!
Here is a link to the Large Whirling Log Sandpainting Weaving and one to the smaller Germantown Night Skies Sandpainting Weaving.
One more shot of the Gallery with Della Woody hanging around the corner. More re-arranging to come before the show ends the end of May.