LIVE Dazzled Eye Walk & Talk
LIVE Dazzled Eye Walk & Talk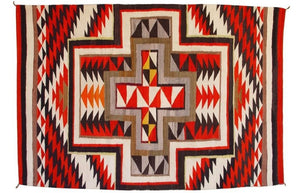 "Gaudy"     "Barbaric"     "An aesthetic debauch"
These were the opinions of many Western critics who, during the Victorian age, found Navajo Eyedazzler weavings jarring and ill-fitted to their décor. Not until the Op Art movement during the 1960's did collectors and artists alike go wild for these weavings that produced similar tricks on the eye as Opt Art did but were created far earlier. 
Featuring selections from world-renowned collectors Steve and Gail Getzwiller, The Dazzled Eye contrasts these works of woven art with American Op Art by exploring the popularity and history of Navajo Eyedazzlers and optical weavings. This exhibition demonstrates how these works by Navajo weavers epitomize Navajo aesthetics and a mindfulness of movement.
Learn about the dynamic history of the Dazzled Eye woven works of art from Steve Getzwiller, as he takes the time to personally introduce you to the exquisite textiles on display.  A walk through a special place and time, with a man who seems to have been there and back. 

If you would like a preview of the images from the exhibit - click here.  You know you won't want to miss this great event and learn all about these spectacular textiles!  Mark your calendar today:  Saturday February 25th 1pm MST. 
For more details:  http://www.tucsondart.org/the-dazzled-eye.html

This is a SPECIAL FREE event in the museum!
Museum information is below for your convenience. 
If you missed this great event, you can relive it in all it's glory by watching the video on our Facebook page