San Francisco here we come!
San Francisco here we come!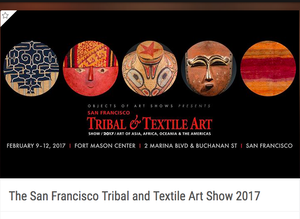 The annual San Francisco Tribal & Textile Art show is the leading Tribal art fair showcasing the arts of tribal cultures and indigenous peoples of the Americas, Asia, Oceania, Polynesia, the Middle East and Africa. 

The show presents over 80 national and international galleries, displaying museum-quality objects and artifacts in visually striking settings perfect for browsing by tribal art collectors, first-time guests and enthusiasts. This show presents the rare opportunity to find that unique object that you can bring home and enjoy.
Nizhoni Ranch Gallery is pleased to be one of the only galleries to represent weavings by the gifted Navajo loom artists.  If you're in the SF area, please be sure to stop by our exhibit and say Hi!  We will have some exceptional weavings for you, like this amazing 3rd Phase Chief Blanket done in a Teec Nos Pos/ Red Mesa style.  
You can purchase tickets for the event by clicking here.  The show will run Feb 10-12: Friday - Sunday 11am - 7pm (5pm on Sun)
Fort Mason Center
Festival Pavilion 
2 Marina Blvd 
San Francisco