Between Show Limbo
Between Show Limbo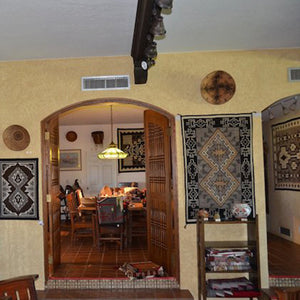 The Gallery turnover has already begun! New weavings hang on the wall and older ones are being folded and stacked on the floor and tables to be stored at a later time.
Preparing for a show can be some hard work!
Here at the Nizhoni Ranch Gallery the
Navajo Textiles as Modern Art
show has just wrapped up. Even so, it is never too early to start preparation for the next upcoming event. This week we have focused on organizing and beginning to hang the rugs that will be featured in our upcoming exhibit, which will focus on
Two Grey Hills
and Toadlena weavings.
New weavings sit folded on the bed, ready to be hung.

It is rare that the first place a weaving is hung ends up being where it resides for the show. Hopefully Steve can keep up the hard work until we can all agree on the best placement of each weaving!


Steve adjusting an newly hung weaving.