Beth's Navajo Weaving of the Week April 2, 2018
Beth's Navajo Weaving of the Week April 2, 2018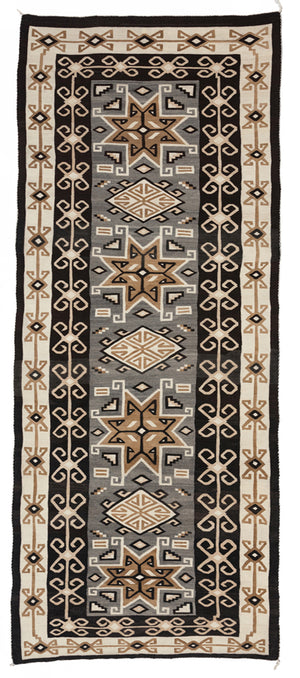 I love the elaborate design, the double border and colors.  Also the size, specifically the length is most unusual.  A weaving of this complexity is extremely rare.  So rare that this Bistie "runner" is the only one Steve has ever seen!
This was woven with hand carded, hand spun native wool,  likely Churro.  Circa 1940's.  Extremely well woven - no doubt a master weaver.  Really quite fantastic.
This weaving is part of the Timeless Treasures of Two Grey Hills exhibit.
Bistie is one - if not the most difficult style of weaving.  Today fewer and fewer weavers weave Bistie.  Of all our weavers only a few will take on the challenge of weaving a Bistie.  
Give us a call 520-455-5020 or email steve@navajorung.com for more info and pricing on this weaving.  Or better yet visit beautiful Sonoita and make an appointment at the Nizhoni Ranch Gallery to see this weaving in person.  The photos just do not do it justice. 
Don't miss the rest of our Bistie collection!
Enjoy!
Beth