Robin's Navajo Chief Blanket Weaving of the Week April 9, 2018
Robin's Navajo Chief Blanket Weaving of the Week April 9, 2018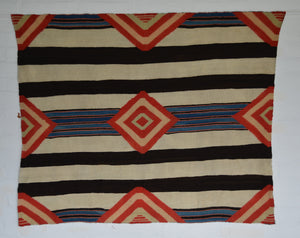 This is such a cool blanket.  I love the subtle colors in this weaving and the history is gripping.  Most likely woven at Bosque Redondo.  Under the horrific conditions and experience of Bosque Redondo, it amazes me this weaver could create such a magnificent chief blanket.  
This was woven between 1860 and 1870, which makes this 3rd phase extremely rare.  Steve says this could be one of the very first 3rd phase blankets woven.  
4'8" x 6'1" 
Call or email, I'd love to talk more about this blanket!
Robin
520-455-5020