More Than Meets the Eye - Kathy Marianito
More Than Meets the Eye - Kathy Marianito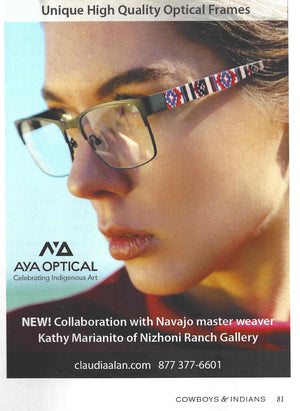 We are thrilled AYA Optical has chosen Kathy Marianito's Chief Blanket Churro # 1506 for the design of their newest frame!  For every frame sold, Kathy will receive a portion of the sale, so please pass this along to your friends and family who may be interested!
AYA Optical announces an exciting new collaboration with Navajo master weaver Kathy Marianito of Nizhoni Ranch Gallery in Sonoita AZ. As always, with every AYA product purchased, proceeds are donated to indigenous communities in need.
News Release (Vancouver, BS) Spring 2018 - AYA Optical unveils an exciting new eyewear collaboration with Navajo master weaver Kathy Marianito of Nizhoni Ranch Gallery.  Launching this June,  the capsule collection will be available at claudiaalan.com and at select opticians across North America.  
Says AYA Optical creator Carla D'Angelo "AYA is a celebration of Indigenous Art, through collaboration that looks to the past and the future.  I work with indigenous artists with the goal of making their work less obscure by bringing their art and stories to a wider audience via our eyewear.  It's a small but important act of reconciliation.  I have always been drawn to the beauty of Navajo textiles and love the strong geometric patterns in the weaving, and I am excited to incorporate this historic tradition into a modern medium."
Navajo Chief Blanket Design by Kathy Marianito.  This design drew from a gorgeous 3rd Phase Chief Blanket Kathy created based on a memory of a blanket her Great - Great Grandfather, Manuelito owned.  AYA worked with Nizhoni Ranch Gallery to bring this rich design to a new style - Aspen.  The rich colors of the rug - beautiful browns, indigo, cochineal red and white are revealed on the temple of the glass and complemented with a satin brown front.  This style is lightweight and very comfortable to wear.   The semi-rimless front allows for progressive lenses and the frame has adjustable nose pads to allow for a more customized fit.  Aspen is available in a sleek matte burgundy or a staple color matte black.  
Lightweight and stylish this sharp looking unisex frame is great for mid to larger sized faces with adjustable nose pads to get the fit just right.  This style is available in two sizes for varying face shapes and in particular for larger faces.  Ryan can accommodate progressive lenses and is a full rim lightweight metal glass. 
Kathy is a decedent of master weavers, hailing from deep in the desert of the Southwest, admidst the dramatic scenery of Coyote Canyon.  Kathy's work is often sought by collectors and can be found only at Nizhoni Ranch Gallery, located in Sonoita, Arizona.  Nizhoni Ranch Gallery represents some of the finest Navajo rugs ever made, historically and today.  Steve and Gail Getzwiller stared the company over 40 years ago as a way to share Steve's collection of Navajo rugs and offer high-quality Native American art with the public.  "AYA Eyeware has collaborated with indigenous artists in the past, so when Carla D'Angelo contacted us about using one of Kathy's Navajo designs for an eyewear collaboration, we were thrilled,"  said Gail Getzwiller of Nizhoni Ranch Gallery.