Yei! It's National Corn on the Cob Day!
Yei! It's National Corn on the Cob Day!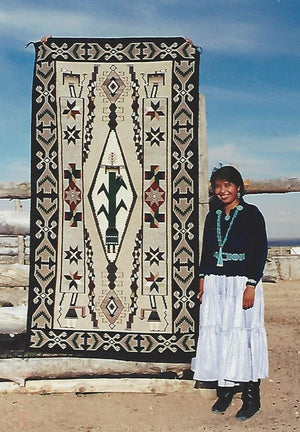 Helene Nez with her extraordinary Yei Pictorial with Corn Yei in the middle.
Helene Nez is an extremely talented weaver.  She has won many awards for her outstanding skill and eye for detail.  
In this piece of art she has created a Yei pictorial with a Teec Nos Pos border.  There are three Yei in this piece - two yei on either side with valero stars, and inside the central diamond, a corn yei. 

This piece was woven using Navajo Churro wool which was hand-dyed, additionally she used silk highlights. This is a one-of-a-kind spectacular piece.  Spiderwoman smiles fondly when she thinks of Helene Nez.
It was also featured in our Holy Woven People Exhibit.  You can see it in the Exhibit guide - click here.  It is from our exclusive Churro Collection.