Steve's Navajo JB Moore Weaving of the Week May 7, 2018
Steve's Navajo JB Moore Weaving of the Week May 7, 2018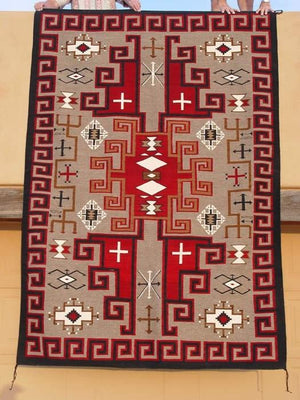 While this weaving is considered a contemporary weaving - it is extremely rare.  Today, there are but a handful of weavers who will take on a rug of this size.  The most common reasons are the amount of time it takes to complete, the monotony of weaving one style, few weavers have large looms and most weavers would have to go a year or more without a paycheck.  
This JB Moore Plate # XXVII inspired weaving is extremely well woven with beautiful churro wool. It has positive elements,  including Spider Woman crosses and water bugs.  It was on the loom for almost 2 years!
Steve says this is the finest large rug he has ever owned - contemporary or historic.  THAT says a lot about this fabulous weaving.  
Start Date: October 2002, Finished August 2004
Master Weaver Helen Kaye, from Blue Gap
9' x 12'  (If you look closely you will see Steve and John had to hold it by hand off the roof to capture this photo)
Shoot us an email or give us a call to talk more about this weaving!
NavajoRug@gmail.com
520-455-5020