Nizhoni Ranch News
Nizhoni Ranch News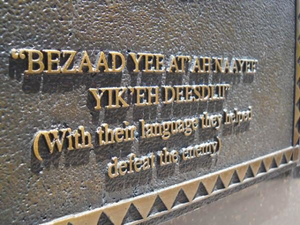 Remembering the Navajo Veterans
All of us at Nizhoni Ranch Gallery would like to thank the Men and Women of the U.S.A. who served in the military and support services for our country,  especially those of WWII. Many years ago this country came together in a valiant effort to help end an unbeatable war at great odds. In a state of great depression and poverty ourselves, the USA pulled together to go from the 8th military power in the world (behind Romania) to Number 1 !
Men, Women, Black, White, and Native Americans came together to work together to make this happen. The Navajo played a special part in this effort....

Seventy-five years ago, 29 young Navajo bi-lingual men joined the Marines and started boot camp. From there they went to Camp Pendleton in California and devised the Navajo Code - an undecipherable code by any one except those who spoke the language and knew the code.
These young pioneers, the Navajo Code Talkers, forged the path for a total of 421 young men. These WWII Warriors served at Guadalcanal, Peleliu, Tarawa, and Iwo Jima, and served as Code Talkers in assaults conducted by the US Marines in the Pacific from 1942 -1945. As of 1945, more than 500 Navajo had joined the Marines.

The Navajo Code continued to have value after the end of the war and remained classified. In 1992 the Code Talkers were honored at the Pentagon.

Today fewer than 10 of the code talkers survive. Two years ago it was estimated that 9,000 veterans live on the Navajo nation. Many Americans who live away from the Navajo area don't realize that the Navajo Nation encompasses 27,000 miles... the size of West Virginia.
Nizhoni Ranch Gallery helped Red Feather renovate then 94-year old Navajo Code Talker, Dan Akee's 4-bedroom home, so he could move back into it for his final days. Here is a short clip from Channel 12 News, before the project was finished....
 The Red Feather organization partners with Hopi, Navajo, and Northern Cheyenne homeowners and community members to repair and winterize their homes by assembling volunteers, professionals, seeking grants, and donations. We applaud their efforts bringing the communities together to help themselves.