Article on Elsie Bia
Article on Elsie Bia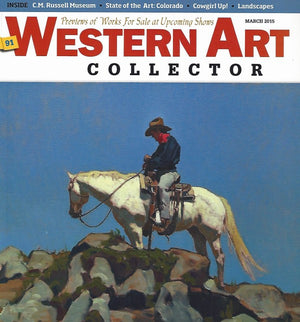 We are very excited that one of our Churro Collection Master Weavers was featured as a Focus Artist in the March 2015 edition of Western Art Collector Magazine.
Congratulations to Elsie Bia !!!
Following family traditions
Elsie Bia hails from the Chinle area of the Navajo Reservation and is one of the last of
many generations of master weavers. Her family herds sheep on the land overlooking
Spider Rock in Canyon de Chelly, among the most sacred places in the center of Navajo country.
The very depth of her work is awe-inspiring. It seems that there is virtually nothing
she can't accomplish geometrically when singing her songs at the loom.
Elsie, an award-winning weaver, learned the tradition and techniques from her grandmother,
as most youngsters do. She is in good company, as some of her relatives are also famous
weavers; Ruth Ann Tracy, Irene Bia, Helen Bia, Ellen and Lucy Begay. The talent of this family
is apparent in the design and tightness of the weave, often complex – always elegant.
Elsie carries on the 400-year tradition and artwork of the Navajo and recently joined the
famous Navajo Churro Collection Legacy. Elsie's Churro Collection weavings are featured
at the Nizhoni Ranch Gallery in Sonoita, Arizona.
Navajo weavings have been made on the same traditional upright loom throughout history.
The continuous warp is wrapped by hand on the upright loom, and the design, or weft,
is meticulously laid in by hand. The designs magically emerge with color and symmetry,
one strand of wool at a time. Elsie's weavings are some of the finest examples you will
see today. They display beautifully on the wall and would last for decades on the floor.
Click here to view more of Elsie Bia's Weavings
Click here to go back to blog Nizhoni Ranch News