How Much Does a Navajo Rug Cost?
How Much Does a Navajo Rug Cost?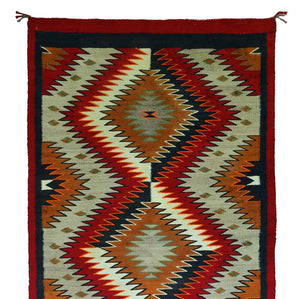 So how much do Navajo Rugs Cost?    This Navajo Rug cost and pricing guide is designed to help you develop an initial budget and understanding of Navajo Rugs.   
There are several things to consider when purchasing quality Navajo Rugs...
 Size
 When was it woven – is it Historic/Antique or Contemporary
 Tightness of weave
 Style (complexity of design)
 Dyes used
 Condition
Historic Textile Exhibit Santa Fe, New Mexico
Navajo Rugs – Size
There are some standard sizes in Navajo Rugs because of the way it is woven, by hand on a Navajo Loom. Common sizes are 4x6, 5x8, 6x9…. (of course there are more sizes available, larger and smaller). You get the idea, rugs are usually woven in a rectangular configuration. The price will vary greatly by the size you need. Some large Navajo Rugs may take 1, 2, or 3 years to make and are harder to find, so they are in a higher price range. Smaller Navajo Rugs start at $100 and they go up from there.
Antique Navajo rugs, depending on size can range from around $1,000 up to many thousands. Provenance can also add value to historic Navajo rugs, for example, previous collection history, or prior publication, etc. 
Contemporary Navajo rugs, again depending on size, can range from UNDER $500 up to many thousands. The number of Navajo weavers working today is dwindling. Many of the young weavers are not learning this sacred Navajo weaving tradition, as it is a very time consuming and disciplined art form. When considering whether to purchase a Navajo Rug or not, know this is a way to encourage young Navajos to learn to weave and keep the traditional Navajo Rug weaving alive. 

2001 Textile Exhibit Desert Caballeros Western Museum, Wickenburg AZ
The Navajo Churro Collection Rugs are contemporary Navajo rugs that we commission from the best Navajo Master Weavers working today. The native Churro sheep wool, the hand dying process and the dyes themselves (natural and aniline) add value to the weaving. Also, each weaving is accompanied by provenance – a Churro Certificate with a photo of the weaver and detailed information about the Navajo rug. You can read more in depth information about The Navajo Churro Collection here.
There are 28 Styles of Navajo Rugs. Some Styles are more difficult to weave than others. Intricacy and tightness of the weave affect the value. Generally speaking, the tighter and finer the weave, the more valuable the piece. 
Navajo Rugs – Condition
The condition of a Navajo Rug will of course affect the value as well.  Weigh the condition issues (is it clean, straight, damaged, color run, fading, etc.)  against your attraction to the weaving and decide.  Sometime issues can be fixed - but that is another blog about Care & Repair.
Navajo Rugs – Prices on our site 
On our website, we have pricing for most Navajo rugs posted.  If a price is not visible, it is either part of our exclusive Navajo Churro Collection, or is one of our more important and valuable Antique or Contemporary Navajo Rugs. We are happy to provide pricing for any these pieces. 
Hope we answered most of your questions about How Much Do Navajo Rugs Cost.
Happy Trails,
Gail and Steve Getzwiller
Please contact us with any questions at:
Phone: 520-455- 5020
Email: steve@navajorug.com