The History of Creating Vegetal Rug Dyes
The History of Creating Vegetal Rug Dyes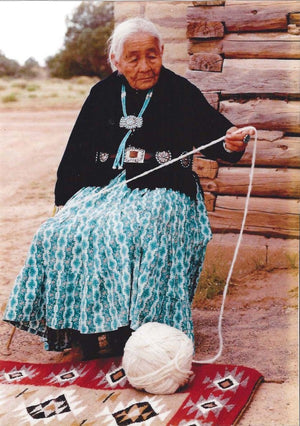 Weavers have been dyeing the wool for their weavings to create beautiful artistry nearly as long as they've been making rugs, tapestries, throws and blankets. And while methods have varied over the years, early Navajo weavers began using natural plant dyes as far back as the 1700s.
Back then, wool was often dyed using indigo (blue) and cochineal (red)—which was sourced from the English Bayetta wool. Weavers continued to expand their dyeing abilities by boiling plants and extracting even more lasting colors and earthy tones. Today, weavers use a variety of beautiful colors to create gorgeous weavings that are simply breathtaking.
Vegetal Dyes
Traditional vegetal dye-making can be a difficult process, especially when trying to achieve the right consistency during dyeing. Weavers use a variety of natural sources to get the right hues and colorations, including roots, berries, flowers, leaves, moss, bark, and even seeds, all of which will vary depending on the growing season.

A fun fact about vegetal dyes: Vegetal dye creation wasn't an "original" Navajo tradition.  The revival of the vegetal dyed blanket began in the 1920s in Chinle with Cozy McSparren and later, Don Jenson in the 1940s. Bill and Sally Lippincott, owners of the Wide Ruins Trading Post, encouraged weavers to use vegetal and native dyes in the 1930s.

By the 1950s, legendary weaver Mable Burnside-Myers of Pine Springs, AZ, created a Navajo Dye Chart to help her children and other weavers create more consistent colors. Her chart shows the following native plants and sources:
Red Onion Skin
Sunflower
Alder Bark
Sagebrush
Indian Paint Brush
Rubber Plant
Juniper Mistletoe
Rose Hips
Small Snake Weed
Juniper Bark
Brown Onion Skin
Gamble Oak Bark
This resurgence in using native reservation plants has played a major factor in the quality and value of rugs today. In fact, because producing consistent colors and having enough resources can make vegetal dye rugs can be a challenge, the cost of these memorable pieces will continue to rise. 

Other Notable Dyes and Color Additions
though vegetal dyes are the most widely used and valued among the dyeing formats, there are also two other dyes that should be mentioned so you can properly understand how weavings are colored. These are aniline dyes and blended wools.

Aniline Dye
A synthetic and organic class of dye sourced from coal tar (aniline), these dyes or pigments are generally found in very bright or very dark colors used in Navajo weavings or textiles. Even newer anilines are working to emulate the subtle tones of vegetal dyes.

Blended Wools
When weavers card natural sheep wools and goat fibers together, this can form a new natural color known as a blended wool. For example, if you were to take two different sheep colors (black and white), you could card them together to create soft grays. These are often found in hand-spun rugs.