Navajo Sandpaintings - Navajo Religious World
Navajo Sandpaintings - Navajo Religious World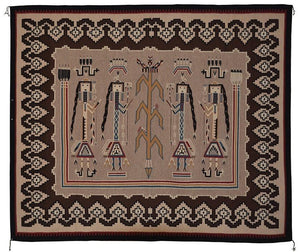 The Navajo Sandpainting Weaving is ranked among the Navajo's best known and best loved art forms. The original Navajo dry painting is traditionally performed for religious or medicinal purposes and is an integral part of the Yei Be Chei Ceremonies, which can last up to 9 days. The sand paintings and ceremonies are designed to summon supernatural forces... they represent the Navajo's religious world and are customarily part of ceremonies to heal and restore a patient that is out of balance.
The Navajo Sandpainting Textile is an art form that owes its existence to Weaver, Artist and Medicine Man Hasteen Klah (1867 - 1937).
Until the 1930's the idea of a Navajo putting a sand painting in a rug was thought to bring them bad luck. However, Mary Wheelwright supported and encouraged Hosteen Klah to weave a sand painting design into a blanket to have a permanent documentation for future Navajo weavers and medicine people. Hasteen Klah went on to produce many blankets, drawings and paintings of various ceremonial designs. After awhile, other weavers, seeing that nothing bad happened to Klah, also started to weave the Sandpainting designs.
Mary Cabot Wheelwright who founded the Museum of Navajo Ceremonial Art in 1937, was permitted to record many of Klah's songs and directed the museum to preserve his medicine knowledge and his sacred objects.
Hasteen Klah knew 5 Chant Ways (ceremonies and their sandpaintings) and 3 of them died with him. A man sensitive to time and tradition did what he could in his lifetime to preserve them.
To view our Sandpainting collection please click here