Opening Nov. 5th Painting with Wool Exhibit reserve your spot
Opening Nov. 5th Painting with Wool Exhibit reserve your spot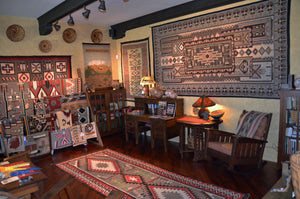 "Painting with Wool - Navajo Pictorial Weavings" Exhibition and Sale.
Open House November 5th! Please reserve your space! A personal viewing is the only way to appreciate the detail, skill, and spirit that go into executing these exquisite weavings. This will be a show to remember.

Just one of the many wild images awaiting for your visit.

It would not be a hard to imagine these Yei figures come alive and walk right out of the weaving! Such Detail!! stars, constellations, the moon, rainbow bars, fox skin, & more...

+++++++++++++

A sneak peak at one corner of the gallery we just rehung.
+++++++++++++
And some details.
Bows and Arrows and Emergence Figures woven from beautifully hand carded & hand dyed native wool, have a story to tell.
Ravens of the 32nd Level - Do you know their story?
The Show will run from November 4th 2016 to January 4th 2017 We hope to see you there.