Talk at Wickenburg Museum Today November 8th
Talk at Wickenburg Museum Today November 8th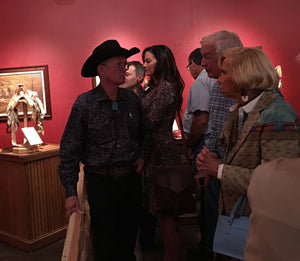 Steve & Gail loaned Navajo Saddle Blankets to the exhibit to help show off the wonderful Saddles on display all hand crafted by Carson Thomas of Wickenburg Arizona.

Above is a sneak preview of just a few of the many saddles and saddle blankets in the exhibit. The saddles are all replicas of the original saddles that Shaped American History - made to scale! Incredible!! And the blankets are all original historic Navajo Saddle Blankets.

Steve talking with some Museum Patrons at the Exhibit Opening. The Saddles, Navajo Saddle Blankets, and Fine Art displayed together give you a real feel for how the west was shaped!