The Thrill of Twill
The Thrill of Twill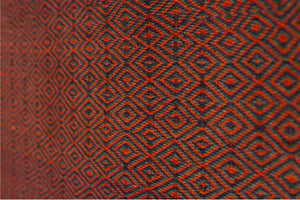 Twill weaving is one of the most difficult styles to master.  Those who do create works of art. It's a dying art form. 
While fewer and fewer artists are able to execute the twill weave, it's important to remember that even the ones made long ago are still standing the test of time because of their strength and unique weaving technique. Unlike other patterns and weaving styles, the twill uses a four harness loom by replacing the standard pull shed and stick shed with a stick shed and three pull sheds, a weaving technique adapted from the Pueblos. 
Take a look at some of the thrilling Twill beauties we have available:
PC-66 • Double Saddle Blanket

Do you like surprises of the good kind?  If so, that's exactly what this weaving is.  It sure doesn't look like much in the overall photo, does it?  BUT when you look at the detailed photos, you see the great surprise!  

Look at the Diamond twill pattern of weaving.  This style of weaving was passed to the Navajo via the manta designs of the Pueblo Indians.  The work in this piece is just stunning and could only have been accomplished by the finest of artisans. And the quality is appreciated even more when you consider it was woven in the 1880s on an outdoors loom.

To appreciate this weaving in "living color" please watch our Facebook video describing it: http://bit.ly/nrg-pc66v
PC-39 • Twill Serape • Circa 1890
Woven entirely using the twill technique, this is an extremely rare masterpiece!
The skilled artisan used hand-carded, hand-spun, hand-dyed Merino wool, and used vegetal dye to obtain some of the coloring.
It's hard to believe that this woven art was brought to life on loom outside where the artist sat daily and played it's music to paint this incredible joyfully colored piece.  It just sings to your soul, doesn't it?  
GHT 2252 • Diamond Twill  • Circa 1880

This piece was created to be used as a double saddle blanket. The loom artist used a beautiful diamond twill design which gives beautiful depth and movement to the piece. Do you see the lighter bands?  Those were made by taking red American flannel bolt of material and unraveling it.  Then the long pieces of thread would be carded together to form thicker pieces of yarn.  A feat of creative artistry in itself. 

We have an excellent video on facebook in which Steve is describing this piece.  You can watch it here:  http://bit.ly/nrg-ght2252v
Do you have any Twill weavings?  What is your favorite thing about them?